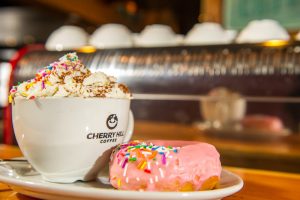 To start the Chisholm Family has procured doughnuts for children at BWCS from the Bull Wheel as a thank-you for such a great term the family has had at Big White Community School. They will hand them out Thursday at 2:45 pm – until all children have had one picked up after skiing. Thank you for the kind gesture Chisholm family.  We want to wish the Chisholm family a safe transition back to their school and home in the lower mainland.  The Chisholms are a staple at BWCS both from a parent and student standpoint.  We will miss you guys!
Term 2 has come to an end! But the fun doesn't stop at BWCS!  We still have a few more skiing and shoe-showing days.  Our Skating days may be numbered but a new choice time is on the horizon for kids in term 3.  On another note, Aubree Hunter and her family (Craig and Nancy) will be moving down to town for term 3, still under the BWCS umbrella in term 3.  We wish her well in the final part of her year and hope to have her come out for field trips and events in and around BWCS and Kelowna.
Have a wonderful and safe spring break!  We will see everyone Monday, Match 27th, 2023.
Mr. Oliveira